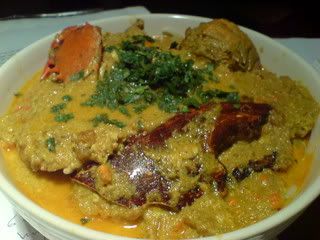 I decided to create a slightly different dish for dad's 60th Birthday dinner. His actual birthday is today, but we celebrated it over the weekend. I def need the time to prepare this meal.

Main course was Nanya Crab & Crayfish Laksa. The recipe is one that I adapted from Justin Quek's Passion & Inspiration Cookbook. Laksa has got to be one of the most sinful dishes.... but man is it tasty!!

I am really proud of my effort...it was my first time purchasing live crabs and crayfish, and it is my first time making laksa. I made it from scratch! Nothing was pre-packed.

The recipe looks daunting, but actually it is quite simple. Most of the ingredients can be purchased from Tekka Market (singapore). The stallkeepers were really helpful. I had no idea what in the world candlenut was, and they directed me to stalls that sold it etc.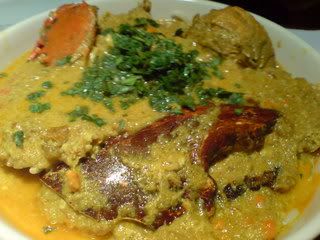 Extremely rich and decadent Laksa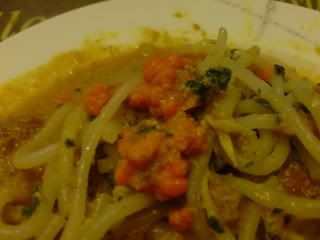 Check out the wonderful orange beads of roe!
Ingredients:

4 sri lankan crab pincers (clean and scrubbed)
crab roe,
optional
4 crayfish (cleaned & scrubbed)
8 pieces tau pok (firm tofu skin), cut into strips
50g silver sprouts (mung bean sprouts that have been tailed)
60g thick rice vermicelli
4 teaspoon chopped laksa leaves (also known as Vietnamese mint or polygonum odoratum)
Laksa Stock
(makes 2 litres)
150g dried shrimp
1 stalk lemongrass, white part only crushed
100g blue ginger (galangal)
20g candlenuts or macadamia nuts, crushed
300g shallots, peeled and minced
20g dried chilli paste
20g belacan (dried shrimp paste)
1 tablespoon tumeric powder
1 tablespoon ground coriander seeds
100mil cooking oil
400mil fresh coconut milk (first squeeze)
1.5 litres chicken stock
2 teaspoon sugar
fish sauce to taste
Method:
1. To make the laksa stock, soak the dried shrimp in some water until it softens. Drain and set aside.
2. Prepare the laksa paste by combining the lemongrass, blue ginger, candlenuts, shallots, dried chilli paste and belacan in a food processor. Blend until smooth, then add the tumeric and ground coriander seeds. Remove with a rubber spatula.
3. Heat the oil in a wok over a high fire.
4. Fry the laksa paste for 10 minutes until it becomes fragrant.
5. Lower the heat and add the dried shrimp. Continue cooking for another 3 minutes then turn the fire up and add the coconut milk and chicken stock.
6. Bring to boil and simmer for 30 minutes, stirring constantly.
7. Season with sugar and fish sauce.
8. Reduce to a simmer and add the tofu strips.
9. Add the crab pincers, crayfish and crab roe...allow this to simmer for about 15 minutes. (depends on how big the pincers and crayfish are)
10. Bring a pot of water to boil. Blance the silver sprouts and noodles. Drain and place the noodles and sprouts in bowls.
11. Place a pincer and a crayfish on top of the plated noodles.
12. Garnish with the tofu strips, ladle some laksa stock over the noodles and top with laksa leaves.
13. Serve immediately.