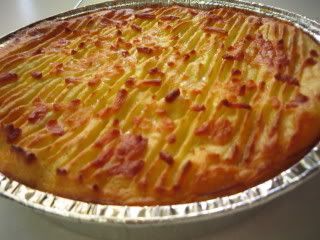 Late last week,
moxielass
came up wih a fantastic challenge a
shepherd's pie challenge
. I have always loved Shepherd's Pie, but never attempted one. Boy am i glad i attempted this challenge. To view moxielass's shepherd's pie,
click here
Coalfox also participated in the challenge, for her interpretation,
click here
I made two different fillings for the Shepherd's Pie. One beef and one chicken. Reasoning? Cos my dad isn't a fan of beef, he tries to avoid eating beef, so I made a batch with chicken just so that he can have some. Also because it is healthier.... .
There's no difference between the two, i just switched the beef in the recipe to chicken. I didn't follow any particular recipe as usual. I went by memory of the various Shepherd's Pie I have tasted.
In total, there was one large beef, 2 small beef and 3 small chicken. Why so many? The HUGE ass one (beef) went to a pot luck Cheok and I were attending (sat), one small beef for Cheok's folks who just returned from a holiday so that they don't have to cook, and one small chicken one for Mr & Mrs Prem. A little gift for them. Mr and Mrs Prem, pls come empty handed next time k. The rest were for home.
All that we have left at home now is 1 whole chicken version and half a beef version. This recipe will def be repeated. The beef version was slightly tastier than the chicken, but maybe it's because we enjoy beef.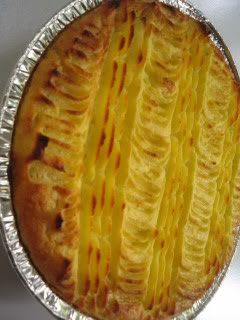 Shepherd's Pie
Serves 6Ingredients:
1 1/2 lb minced beef
1 tablespoon garlic minced
2 tablespoon olive oil
3 onions diced
2 carrots diced
1 cinnamon stick
1 sprig of rosemary
2 bay leaf
4 cloves
8 pepper corns
3 tablespoon wocheshire sauce
100 ml tomato paste
3 tomatoes diced
2 cups of beef stock
1/2 cup red wine
2 tablespoon sugar
1 teaspoon salt (heaped)
cornstarch mixed with water (to help thicken the gravy)
8 large russet potatoes
1/2 cup sour cream
2 tablespoon butter
2 tablespoon mustard
1 cup shredded cheese (optional)
Method:
1. Sautee onions with the pepper corns, cinnamon and cloves till fragrant and the onions are transparent.
2. Add the garlic, stir for another 2 minutes.
3. Add the minced beef, stir till it is browned.
4. Add the tomatoes, wocheshire sauce and carrots, and stir.
5. Add the tomato paste and red wine and stir.
6. Bring to boil, and add the beef stock, sugar and bay leaf.
7. Allow this to simmer for about 1 hour.
8. Add salt to taste.
9. While the meat is simmering, boil the potatoes.
10. Mash it with the sour cream, butter and mustard. (add salt if needed)
11. If the gravy (meat) is too runny, add the starch, and thicken to your preference.
12. Place the meat into a baking dish.
13. Top it with your mustard mash.
14. Smooth the top, and add designs if you like.
15. Sprinkle with shredded cheese if you want.
16. Place the pie into a 200C pre-heated oven for about half an hour, till the top is a nice golden brown.
17. Serve immediately.
The filling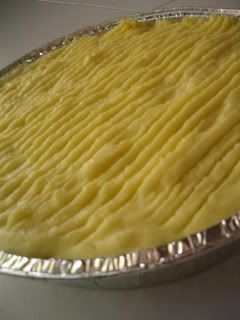 Topped with Mash

Beef version all done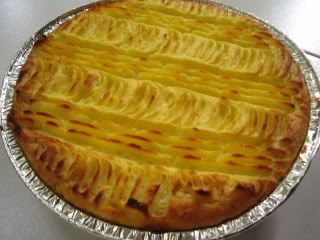 Chicken all done!

Current Mood:
happy
Current Music: Money for Nothing - Dire Straits