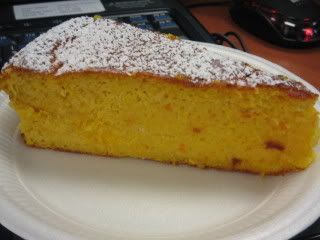 Brought two slices into work...shared it with
breadcrumbs

Extremely moist cake, and unique cos it uses Polenta.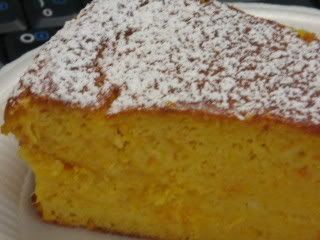 INGREDIENTS

1 large orange
175g butter, softened
1 cup (220g) caster sugar
½ cup (75g) plain flour
1 cup (170g) polenta
½ cup (60g) almond meal
2 teaspoons baking powder
4 eggs, separated
1 tablespoon Grand Marnier, optional
Orange syrup
1 cup orange juice
½ cup (110g) caster sugar

METHOD
1. Pre-heat oven to 180°C

2. Grease and line a 9 inch cake pan.

3. Place whole orange in a small saucepan. Cover orange with water and weigh down with a small saucer (to keep orange submerged by the water). Bring to boil and cook, simmering for about 12-15 minutes until orange is very tender when tested with a skewer.

4. Remove orange, cool for 10 minutes. Chop coarsely, reserving juice and discarding seeds.

5. Place orange and any juice in a food processor and pulse briefly until finely chopped. Add butter, sugar, flour, polenta, almond meal, baking powder, egg yolks and Grand Marnier and pulse until just combined.

6. In a separate clean bowl, whisk egg whites until soft peaks form. Fold egg whites, in 2 batches, into orange mixture and pour into prepared cake tin.

7. Bake in preheated oven (40-45 minutes) until cooked when tested with a skewer.

8. Meanwhile combine orange syrup ingredients in a small saucepan over a medium heat; stir until sugar dissolves. Bring to boil and cook 2 minutes until syrup thickens slightly; set aside until cake is cooked.

9. Remove cake from oven and poke holes all over the surface with the skewer. Pour orange syrup all over the surface of the cake and let stand for 20 minutes until syrup is absorbed into the cake. Serve with double cream, mascarpone or crème fraiche.

NOTE: I usually just serve it plain without any cream.
Current Mood:
sleepy