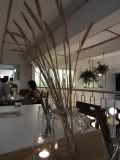 Located just above Loysel's Toy, I have heard heaps of good things about this restaurant, and finally made it there last night. I have heard how great the dishes were, how "cool and industrial" the space was, good service and more importantly the new restaurant opened by the guy that brought us Raw.

Interesting space. I can understand why it is open only in the evenings (with the exception of Sunday). It isn't airconditioned, and could get quite warm during the day. But it is an interesting space. Almost like being at someone's home!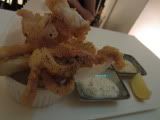 Salt & Pepper Squid S$10
The squid was fresh, and it was cooked just right, so it was not rubbery. My only concern was the batter did not "stick" to the squid and it did fall apart. The batter was crisp though :)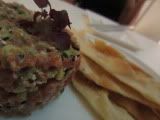 Avocado-Wasabi Tuna Tartare & Thyme Flatbread S$21
Now THIS is amazing. I would highly recommend you try this. The combination was just awesome. The avocado cut the sting of the wasabi giving the dish a nice mellow flavour. The creamyness of the avocado also complimented the tuna tartare perfectly. I like it that the tuna was
roughly chopped giving the dish texture.

Served with a fragrant and crisp flatbread. I liked it that they bothered to warm up the bread well. Scooping the tartare onto the flatbread and popping it into my mouth kept me silent for quite a while...it was just so good!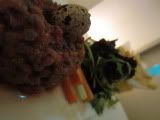 Cognac Beef Tartare with Raw Quail Egg Yolk and Fries S$19
Very few places serve this, and I have a soft spot for raw beef. What can I say. I could definitely taste the Cognac in this dish and well seeing it is a raw dish, the alcohol from the cognac gave it a kick. (No heat to kill off the alcohol) The crunch of the onions teamed with the roughly chopped meat, it made a good beef tartare.

The fries were well done, crisp on the outside, fluffy on the inside, and well seasoned.
Seared Duck Breast with Eberico-Wrapped Fennel and Balsamico-Cherry Sauce. S$25
Lean duck, done to medium, so the meat was still juicy and pink. Tasty without being gamey, the sauce complimented the duck. I always thought of pairing duck with orange, but obviously a cheery balsamic glaze works great! Must remember that.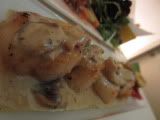 Seared Scallops in Mushroom Sauce with Cherry Tomatoes and Goat's Cheese. S$17
Another out of this world dish. Scallops were seared to perfection where they have JUST gone opaque in the middle. Juicy and big, these scallops were a delight. Paired with a thick and creamy mushroom sauce...this was lovely. Extremely rich I must warn. Didn't taste the Goat's Cheese as I was sharing the dish and well there was only one fried Goat's Cheese. :)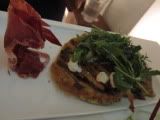 Zucchini Pancake with Goat's Cheese and Eberico. S$16
The friend I was with highly recommended this, and this being the first time I am tasting such a pancake, I was open to giving it a shot.
It had an interesting texture and it was nice and savoury. But I wish it was a little fluffier seeing it is a pancake, and my friend did admit
that usually it is fluffier, so I will try this again to give it a fair go. Overall, this with a bit of the salty ham...went down well still.
All Veggies Fresh And Roasted S$18
This is a very hearty salad, and definitely share it. There was roasted peppers, asparagus, fennel, onions and sauteed mushrooms. This was ridiculously fresh and kudos to them. They didn't add too much seasoning to the veggies, so you could taste the sweetness. I enjoyed this.
The Lemon Curd Tart was good but then again I like tangy/zesty desserts. The curd was not too sour and the sweet pastry complimented it. I don't think their pastry is made in house, but it is still pretty good. It wasn't soggy which is always a perk.
I heard heaps about their basil sorbet unfortunately, it was not available last night.
OVERALL, I had a great evening at Kilo. Loved the idea that dishes could be shared so we could have a good taste of the menu. Ingredients were fresh, innovative but not OUT THERE. Pity some of their house specials were not available last night. Fresh Figs Stuffed with Roasted Walnuts, Ahi Mango Poke with Wanton Chips. But that just means I will have to make another trip down, and that I will.

NOTE: PLEASE make a reservation, this place is always packed I hear, and it was last night when I was there.
Kilo
Add: 66 Kampong Bugis, #02-01, Singapore 338987
Tel: +65 64673987
Opening Hours: Tues - Sat:18:00-00:00, Sun:11:00-15:00
Current Mood:
cheerful
Current Music: Price Tag - Conor Maynard