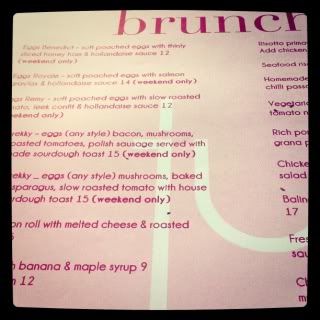 I can just hear a heap of Aussies in Singapore screaming that I am sharing this place, and actually I DID think long and hard whether I wanted to share this little secret haven...but well...good things ought to be shared.
I stumbled across this place by chance....actually they had me at Eggs Benedict. Heh. I am a eggs benedict freak! I can have that everyday for breakfast if it wasn't so unhealthy.
Tucked inside Braddell Heights Estate (5-10 min walk from Lorong Chuan MRT station), this place serves authentic Aussie fare...with Aussie portions to boot! For the portion they serve, and the quality, it is really decent.
A relaxed little bistro that seems to serve mainly the Australian School Community, but I have noticed more and more locals visiting it. For the quality and price, I can understand why. Most mains are in the mid $20 range, so it isn't too bad.
The brunch is the big kicker for me.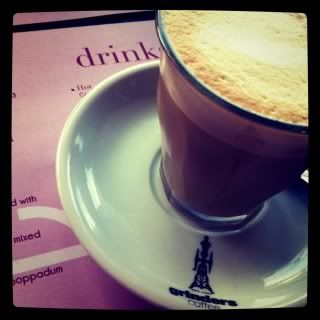 One of the few places that serve Grinders coffee! A smooth latte...good balance of milk and espresso...and it wasn't too acidic.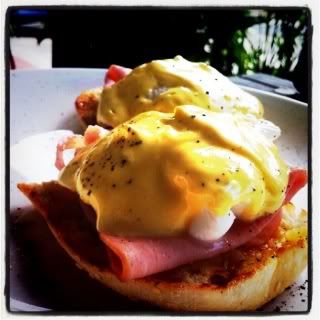 When my eggs bene arrived....I could not bear to tuck in...well that lasted for about 10 seconds....heh.
My poached egg was so well executed!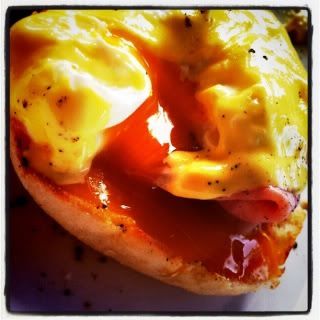 Tender whites....encasing the golden runny yolk on the inside....a well toasted muffin to soak it all up! The sauce which is the important bit of a eggs bene....generous...good balance of creaminess and vinegar....

Portions are enough for two to share if you are small eaters... I am a small eater BUT I must admit I was quite disappointed I had to share it....though my tummy said thanks...it would have been too much.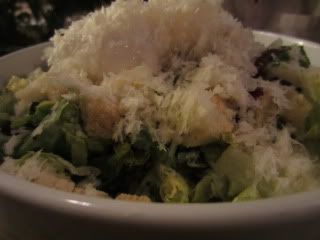 A yummy Caesar salad. Again, generous portions....heaps of cheese..nice mixture of greens...topped with a perfect poached egg.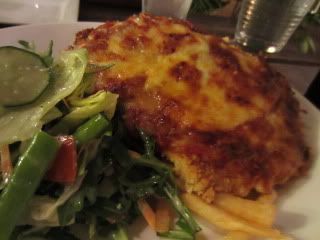 Chicken Parmesan! This brings me back to my boarding school days! Crusted chicken breast...topped with tomato sauce and cheese...it is like a chicken pizza! without the crust! YUMMERS. Served with fries and a generous portion of salad which consisted of rocket, beans, lettuce, cucumber, carrots...in a nice vinegrette!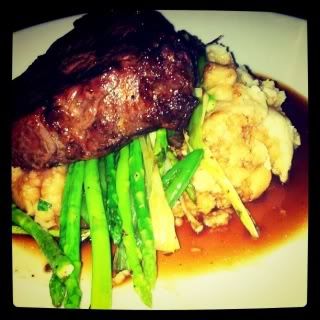 The angus steak was done exactly to my specification..medium...an

d man was it a generous cut! I am a meat lover and I struggled to finish it....changed the fries to mash...and again...errr...too much. The mash isn't the instant stuff...def homemade and mashed. :) Generous portion of veggies went with my steak...for under $30! BARGAIN for the portion they serve.

BIG portion...do share!
This entry is also uploaded on my fan page. Click here to read other reviews and events.
Address: 15-1 Jalan Riang,
Tel:
+65 6858 2827
Current Mood:
bouncy