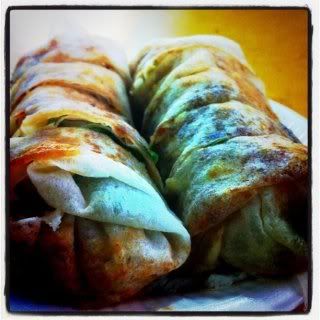 I am a huge fan of Popiah. A mixture of chopped turnip, carrots, dried shrimp, etc made into a crunch stew like dish topped with hard boiled eggs, sweet dark sauce, chilli, garlic, something crunch, lettuce and wrapped in a thin rice paper pancake.
It sounds simple enough, but it isn't easy finding the right balance. Sometimes it is too wet...so the vegetables soak through the skin, sometimes the skin is too thick and all you have is a mouthful of flour or the vegetables are just bland. This stall i must say is the best I have tried, and I have tried a fair few "famous" ones.
The skin is tracing paper thin, the vegetables has a crunch to it, and that crunchy topping is to die for! It has so much flavour! A little pricey at $2, but honestly, it is worth a try!
They do sell their skin and toppings for a popiah party too. I must remember that. It is definitely worth it!
On a separate note, I have had many request on
Culinary-ness
, fans asking me to share hawker places I frequent. So I have done just that. This popiah and many other are featured there...do check it out if you are curious. I will constantly be updating it as I munch through the island.
Click here for the hawker fare link
.
DIY Popiah Set $78 (36 rolls)
DIY Kueh Pie Ti Set $38
(order one day in advance)

Chomp Chomp Food Centre Stall 19
Christopher Lee: 9680 8161
Current Mood:
cheerful