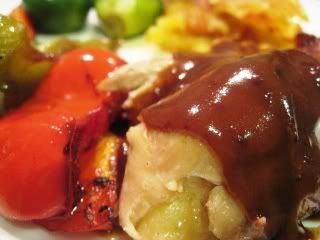 There are days when I am just lazy and I have no urge to spend time in the kitchen. But at the same time, I want a good hearty dinner. A meal I will savour slowly, healthy (have to keep Dad in mind), something different…something I haven't done before. Yes, I like challenging myself, and most of the time I am pleasantly surprised at the "nonsense" I can come up with. A person's imagination/creativity can at times be amazing.
One of the easiest way to prepare a meal personally is a roast. It requires very little time and effort, which leaves me time to do other things. It pretty much requires a short time of prepping the meat and veggies, dumping it into a pre-heated oven, and you are done. You can go do other stuff while your meal is being cooked.
This roast chicken recipe has got to be one of the quickest meals. The chicken was purchased really close to dinner time, so I didn't have time to allow it to sit and marinade for a long time. Pretty much it had all of maybe 15 minutes to marinade while I prepped my veggies and waited for the oven to pre-heat.
I have been trying to incorporate different coloured veggies into dad's diet so that it is healthier. A good friend Debs was also gonna to have dinner with us, and I know she loves her brussel sprouts. I did a quick research on brussel sprouts and found that they have heaps of health benefits. So I decided to throw them for this dinner.

Brussel sprouts are very high in fiber and they belong to the disease-fighting cabbage family. Brussel sprouts are particularly rich in Vitamin C, another anti-cancer fighting agent. So therefore it is supposedly a great veggie high in protein, low in fat and calories.

That being said, it isn't a veggie for everyone. It is one of those veggies you either love or hate. Thankfully we like it and Debs was one happy girl.
I whipped up a instant mix gravy for Debs and myself, just because Debs is a great fan of gravy in general and that girl can drink the stuff. I just like a little bit for flavour. I have got to say that the chicken tasted great on it's own....I had some the next day tossed with some nice arugula salad greens for lunch. Totally satisfying. Chicken, roasted veggies, fresh organic salad green, and just a touch of zest Italian dressing.
I like meals where I can use the leftovers for a totally different tasting meal.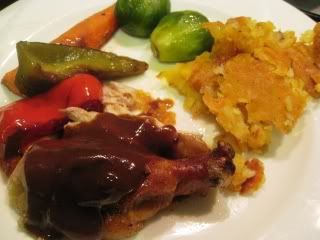 Ingredients:
1.5kg whole chicken cleaned
2 tablespoon chicken marinade (optional)
1 ½ tablespoon sweet basil flavoured salt (you can use good sea salt, just reduce it to 1 tablespoon. I wanted to use the salt I got from Thailand)
½ tablespoon freshly ground pepper (I used a mixture of black, white, sze chuan and pink peppercorns grounded)
½ cup fresh basil leaf nicely bruised with 1 tablespoon olive oil (just cos I wanted to use my Jamie Oliver Flavour shaker)
3 carrots, halved length wise
2 coloured peppers, cut into 6 even pieces each
1 tablespoon olive oil
½ teaspoon balsamic cream (you can use normal balsamic vinegar, just increase it to 1 teaspoon)
½ teaspoon sea salt
10 brussel sprouts
1 tablespoon olive oil margarine
Method:
1) Marinade the chicken with the chicken marinade while you prep the rest of veggies.
2) Place the carrots on the bottom of your roasting pan, it is going to act as your roasting rack.
3) Add the flavoured salt and pepper, flavoured basil oil all over the chicken and lay it on top of the carrots.
4) Place the chicken into a 180C oven for 40 minutes to roast.
5) Marinade your peppers with the 1 tablespoon olive oil, balsamic cream and salt.
6) After your chicken has been in the oven for 30 minutes, add your peppers into the roasting tray and allow this to roast for the remaining 10 minutes.
7) While your peppers are cooking with the chicken, boil your brussel sprouts in hot water for 5 minutes.
8) Strain and toss the brussel sprouts with the olive oil margarine.
9) Take your chicken out, pierce the thigh joint, if the juice runs clear, the chicken is cooked. If there is a little tinge of blood oozing out with the clear juice, allow the chicken to roast for another 5 minutes of so. It should be ready.
10) Carve a portion to individual plate, serve with your roasted peppers and carrots and potatoes.

Chicken prepped for roasting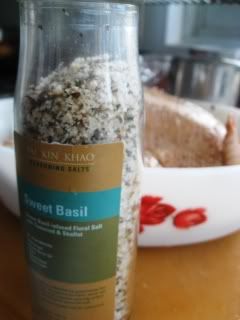 The flavoured salt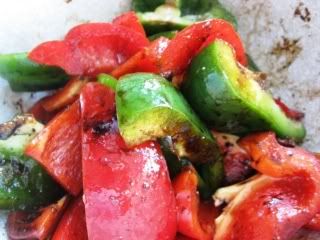 Marinated peppers



Debs with the flavour shaker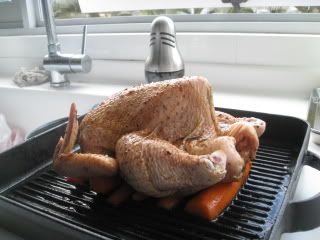 Chicken waiting for the sauna



Time for veggies to go in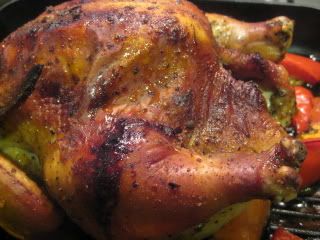 Ready to be carved...nice and golden brown chicken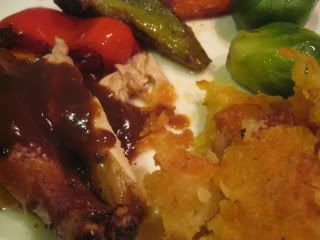 Ready to be served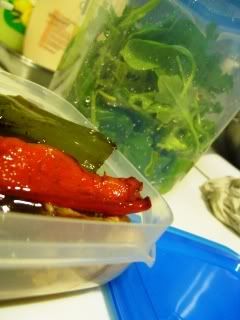 Lunch prepped for the next day
Current Mood:
hungry
Current Music: Hyme of the big wheel - Massive Attack