I have never been to Equinox for dinner, and this was my first time, and I was pleasantly surprised that the food was actually not too bad! I always thought people visited the restaurant was due to the view.
Ok the view is a lot nicer at night, but I didn't have the time to snap a shot. All I got was the day shot. J Located on the 69th floor of the Swisshotel, the view is just magnificent.
We enjoyed a delicious 5 course set dinner where there was a choice of either lamb or fish for main, and overall it was good.
1st course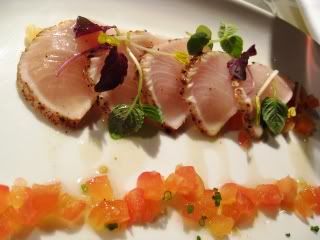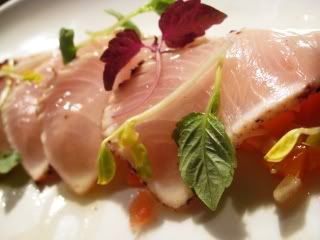 SPICE CRUSTED YELLOW TAIL KINGFISH, PICKLED VEGETABLE SALAD, BABY SHOOTS AND LEMON DRESSING
This was great…the fish was very fresh, and this was my first time tasting yellow tail kingfish. Great texture…very light in taste, so it went very well with the pickled vegetables and lemon dressing.
2nd course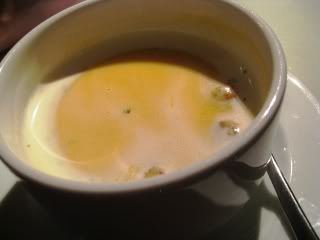 GOLDEN PUMPKIN SOUP WITH SPICED MACADAMIA NUTS AND CHERVIL CREAM
This is a light down. The pumpkin soup was very thin…..it should have been thicker for sure. This is after cream was added…so that can be improved on. The macadamia nuts was a very nice touch…great idea….way better than boring croutons.
3rd course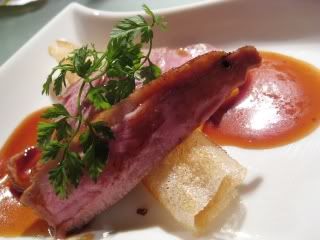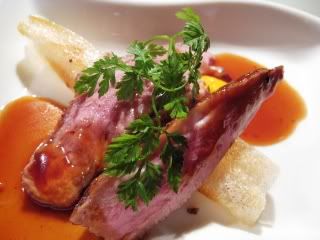 PASTILLA OF CONFIT DUCK, ROAST BREAST RASPBERRY JUS
Can I just say this was AMAZING. I loved it. The wrap was crisp, the meat was juicy…and the raspberry jus was not overpowering. Thinking of this is making my mouth water!
4th course (main)
ROASTED SALMON, BASIL MASH, BABY CLAMS, BOUILIABAISE SAUCE
My colleague had the fish for main and she found it pretty good. The salmon was juicy, and the bouiliabaise sauce was well balanced. I can't comment cos I wasn't in the mood for fish and I was enjoying my main which was…..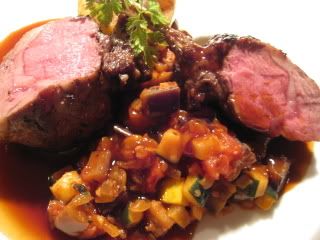 ROASTED BABY RACK OF LAMB, POTATO FONDANT, RATATOUILLE THYME JUS
The lamb was done to perfection…nice and pink and juicy. Now the cut of lamb was def not in the league of the lamb I purchased for Father's Day Dinner. It still had a bit of a gamey taste to it. The meat was very tender and credit has to go to the chef, I enjoyed this with the ratatouille thyme jus. The potato fondant was a little dry I must admit.
5th course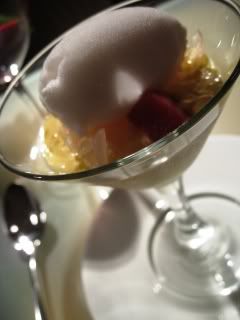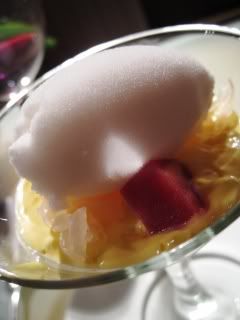 SAGO IN PASSION FRUIT CREMEUX, REDCURRANT JELLY, COCONUT SORBET
I am a huge fan of passionfruit so I loved this dessert. It was very unique. They gave it a little asian twist to it by adding sago and pomelo. It reminded me of my red wine agar agar just cos there was an asian twist to it. It would have been a lot better if the coconut flavour in the sorbet came through more.
Current Mood:
happy