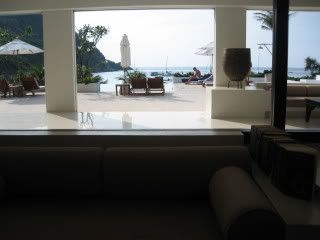 In The Racha Library (Facin the main pool)
This island is everything we had hoped for. Cheok keeps saying he doesn't want to go back to Singapore.
when we arrived at Phuket airport, we had a Racha limo waiting for us. Now, we were expecting just a 'normal' car to come pick us up...oh no...we had a nice merz waiting for us, with ice cold bottled water, and chilled set towels nicely placed at the back for us. Talk about pampering us righ away!
We were very early for the first boat to Racha, but we def didn't have to rough it out. The Racha resort had a waiting area close to the ferry. They served us a welcome drink (which was delish) and we just kicked back and enjoyed the air conditioning and tele there.
We arrived on Racha island at around noon yesterday. We were absolutely speechless.... . The resort is immaculate...and the service is top class. Before you can ask for something, it is already done for you. We even had our own inidividual host bring us to our villa! The cutest thing the host explained to us is their "do not disturb sign". it is a litle green stuffed frog toy. When you put the little frog in the box outside your villa, that means you do not want to be disturbed. it is a cute little fella. i have taken a picture of it.
All we have been doing is splashing around in the two pools, a little in the sea. Unfortunately we haven't been lucky with the marine life. We brought a underwater camera and all, but the fishies just aren't home.
We were a little tired yesterday from all the travel, a short snooze ended up being a 2 hour one...we missed the sunset. Something we are determined not to miss today, seeing it is our last night here.
Poor Cheok spent a tonne of time out out sea today hoping to shoot some shots of the marine life to show me, and ended up a little sea sick. He is having a short snooze now.
The stars at night is just amazing. Just sitting on our little terrace, lying on the daybed and gazing up at the sky....little stars dotted the black cloudless sky. life couldn't get sweeter than sipping chilled champagne and just gazing at the stars with your loved one.
The food here has been pretty decent...well we do like Thai food. I shot a tonne of pictures of the place, can't wait to share them when i return. Well, back to my villa, just wanted to post some stuff down before i forget.
Current Mood:
relaxed
Current Music: Waves Crashing & Air Conditioner